History of Holy Trinity Vicarage
From the history of the church written in 1988 and from Fred Rimmer's notes we learn that the original Vicarage was a very large, three storey house, built on land adhacent to and owned by the church. It is a pity there is no photograph of the property but this advertisement from the classified columns of the Morning Post. August 11th 1885, gives us an impression of the place:

It must have been a fine establishment, fit for a millionaire, as some five years later on August 16th 1890 it appears in the County and Society News column of The Worcestershire Chronicle:

The Vicarage was in constant use until the Revd. Daunton Fear came to Holy Trinity in 1944. He and his family did not want to live in the large expensive to run vicarage so the building was let and used as a hostel, except for a few months in 1947 whe the Daunton Fear's did move in. I do not know where they lived instead of the vicarage but in 1947 Daunton Fear found a house called Spring Grove, in Cowleigh Road. Plans were made to buy this £4,000 property but as this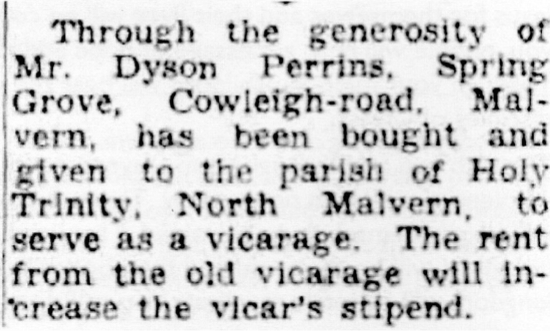 cutting, from July 12th 1947, shows My Dyson Perrins pipped them at the post. The Diocese took over the vicarage as flats for retired clergy but the building proved to be unsuitable so it was returned to the parish. It was then deceided to build a new vicarage on the old site, financed by the sale of Spring Grove. The new vicarage was completed in 1964 and has been home to our Vicars and their families ever since.